Scott Pilgrim VS The World is another Wacky-Cool under dog Super Hero Movie based on Bryan Lee O'Malley's Oni Press comic book of the same name, Scott Pilgrim vs. the World follows the eponymous slacker rocker on his colorful quest to defeat his dream girl's seven evil ex-boyfriends. Twenty-two-year-old Scott Pilgrim (Michael Cera) may not have a job, but rocking the bass for his band, Sex Bob-omb, is a tough job unto itself. When Scott locks eyes with Ramona Flowers (Mary Elizabeth Winstead), he knows she's the girl he wants to grow old with. But Ramona has some serious baggage; her supercharged exes rue the thought of her being with another man, and they'll crush any guy who gives her a second glance. Now, in order to win Ramona's heart, Scott will do battle with everyone from vegan-powered rock gods to sinister skateboarders, never losing sight of his gorgeous goal as he pummels his way to victory. Shaun of the Dead's Edgar Wright directs the film from a script he penned with Michael Bacall. Superhero veterans Chris Evans and Brandon Routh co-star in the action comedy as two of the seven ex-boyfriends.
Scott Pilgrim VS The World Official Trailer HQ
Cast
Michael Cera as Scott Pilgrim
Mary Elizabeth Winstead  as Ramona V. Flowers
Kieran Culkin as Wallace Wells
Chris Evans as Lucas Lee
Anna Kendrick as Stacey Pilgrim
Brandon Routh as Todd Ingram
Alison Pill as Kim Pine
Jason Schwartzman as Gideon Gordon Graves
Ellen Wong as Knives Chau
Satya Bhabha as Matthew Patel
Mark Webber as Stephen Stills
Scott Pilgrim VS The World Theatrical Trailer HD
Scott Pilgrim VS The World Avatar Creator
What's cool with the website when you go there is that they have an AVATAR CREATOR wherein you can create you own avatar and save it to use it as your desktop wallpaper, send it to your friends, post it on Facebook or Twitter, save it as an IM Icon/Avatar or in short do whatever you want haha! See screenshot below.
Click here to go to the Avatar Creator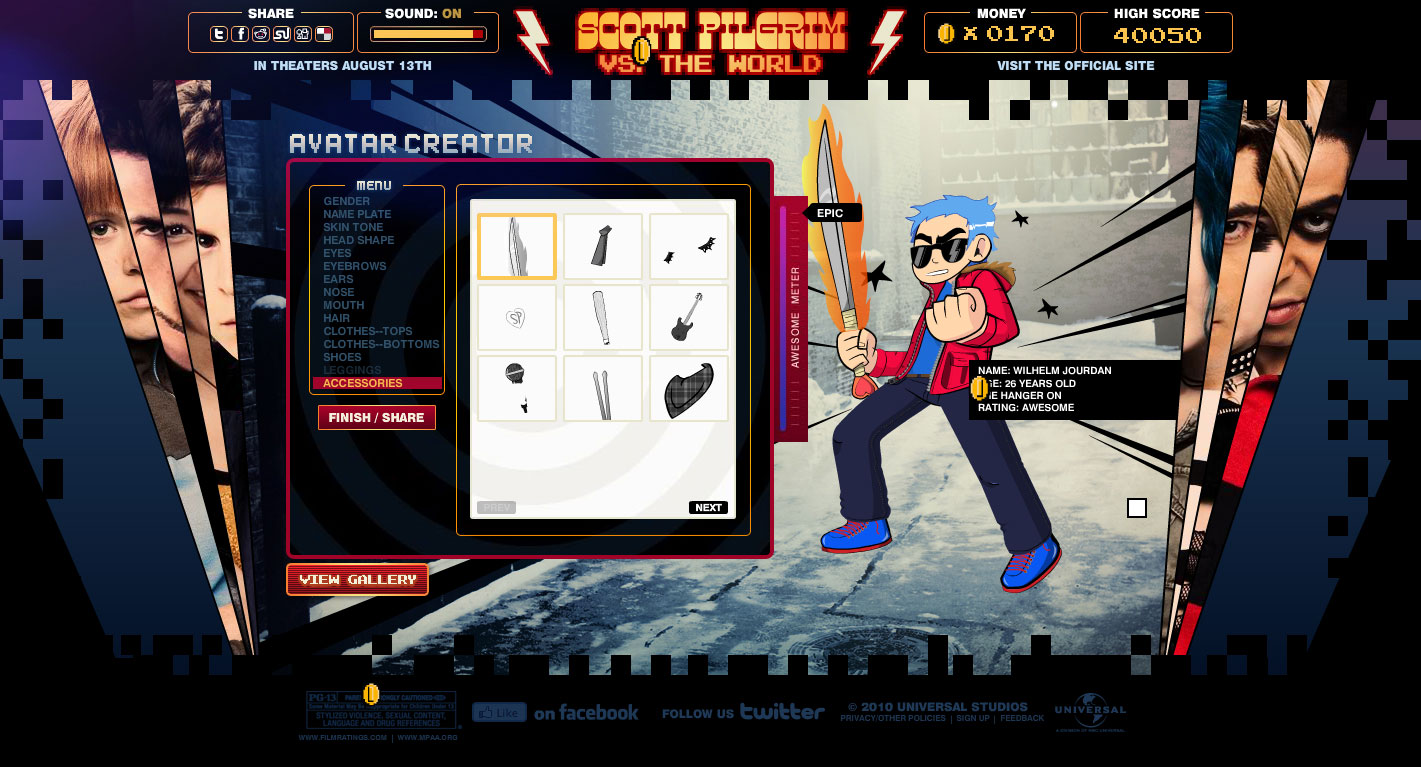 Scott Pilgrim VS The World will be showing on August 13, 2010