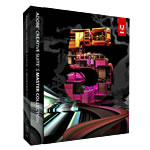 Adobe Creative Suite 5 or CS5 Collection is now downloadable on their website, you can now get your hands on to the amazing recently launched Adobe CS5 that got many new features compare to its predecessor even if you don't have the budget yet to buy or upgrade from your previous Adobe Creative Suite.
You can download everything that you want to try before buying it, all features are functional, its like you bought a copy of it but sadly all trial have limits, and Adobe CS5 trials will only last for 30 Days. So maximize the use of it, test it, do whatever you want, and think if it is really worth buying. Happy testing! 🙂
Free Trials are available on both Windows and Mac OS Platforms.
You can download it here:
Download Adobe CS 5 Trials Now!
Note: You need to have a Adobe Registered Account first, so if you don't have one, just register, login then download any CS5 product you want.
Trials are also available on DVD Set:
Adobe Creative Suite 5 Web Premium
Adobe Creative Suite 5 Design Premium
Adobe Creative Suite 5 Production Premium
Adobe Creative Suite 5 Master Collection